Page 2 - Microsoft Word - PRODUCT LIST
P. 2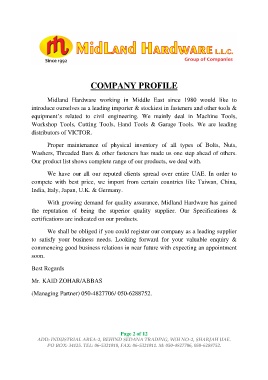 COMPANY PROFILE

       Midland Hardware working in Middle East since 1980 would like to
introduce ourselves as a leading importer & stockiest in fasteners and other tools &
equipment's related to civil engineering. We mainly deal in Machine Tools,
Workshop Tools, Cutting Tools, Hand Tools & Garage Tools. We are leading
distributors of VICTOR.

       Proper maintenance of physical inventory of all types of Bolts, Nuts,
Washers, Threaded Bars & other fasteners has made us one step ahead of others.
Our product list shows complete range of our products, we deal with.

       We have our all our reputed clients spread over entire UAE. In order to
compete with best price, we import from certain countries like Taiwan, China,
India, Italy, Japan, U.K. & Germany.

       With growing demand for quality assurance, Midland Hardware has gained
the reputation of being the superior quality supplier. Our Specifications &
certifications are indicated on our products.

       We shall be obliged if you could register our company as a leading supplier
to satisfy your business needs. Looking forward for your valuable enquiry &
commencing good business relations in near future with expecting an appointment
soon.

Best Regards

Mr. KAID ZOHAR/ABBAS

(Managing Partner) 050-4827706/ 050-6288752.

                                                   Page 2 of 12
   ADD: INDUSTRIAL AREA-2, BEHIND SEDANA TRADING, W/H NO-2, SHARJAH UAE.

         PO BOX: 34125. TEL: 06-5321910, FAX: 06-5321911. M: 050-4827706, 050-6288752.